A HEART FOR MAURITIUS SINCE 1978
The Federation of Christian Churches in the Indian Ocean was founded in Mauritius in 1978. It is part of the evangelical, protestant church movement of which there are about twenty churches on the Island. As a missionary church, we work in partnership with CTMI, an international Christian network.
Find out more about CTMI
The elders are united through the message of the cross and subsequent work of God in their lives. By God's grace and His will, they work as a team under the apostolic anointing and leading of the fivefold ministries.
"And He Himself gave some to be apostles, some prophets, some evangelists, and some pastors and teachers, for the equipping of the saints for the work of the ministry, for the edifying of the body of Christ, till we all come to the unity of the faith and of the knowledge of the Son of God, to a perfect man, to the measure of the stature of the fullness of Christ"

(Ephesians 4:11-12)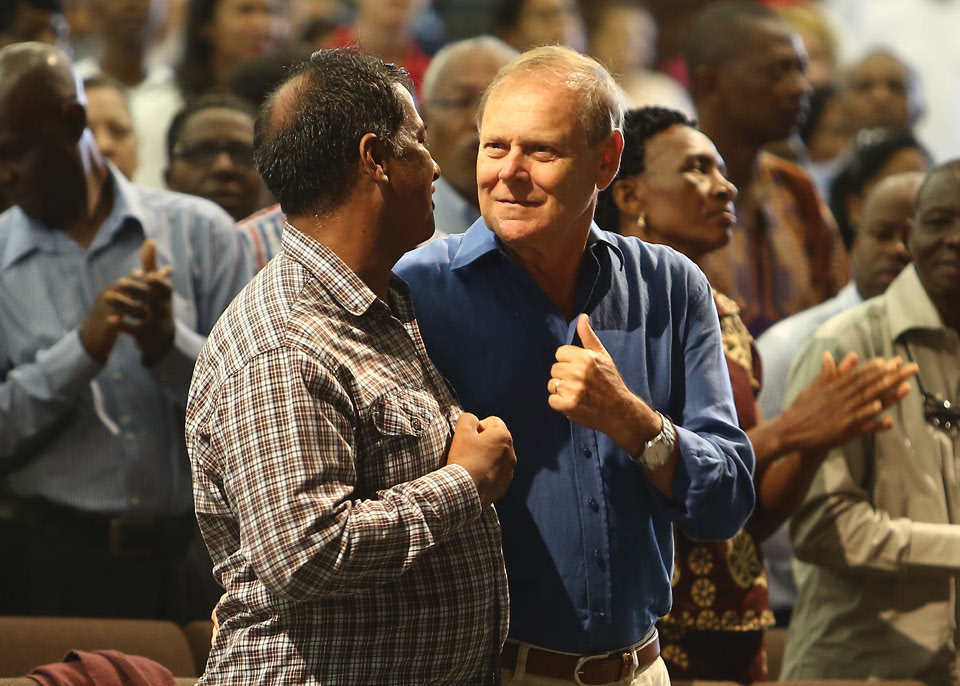 The elders work as a team by region and are available throughout the week to support you in your Christian walk.
Franco
Alcindor
CENTER :
Curepipe
Vuillemin
Bernard
Banor
CENTER :
Vacoas
Résidence Kennedy
Laval
Bontemps
WEST :
Bambous
Chamarel
Len
Boy
NORTH :
Port Louis
Pointe aux Sables
Philippe
De Beer
WEST :
Bambous
Chamarel
Gerard
Doorasamy
NORTH :
Curepipe
Vuillemin
Neville
Fitzroy
NORTH :
Port Louis
Pointe aux Sables
Jonathan
Hett
CENTER :
Trianon
Beau Bassin
Tinei
Kaiyo
CENTER :
Trianon
Beau Bassin
Roland
La Hausse
CENTER :
Curepipe
Vuillemin
Marc
Labonté
CENTER :
Trianon
Beau Bassin
Jean-Claude
Lajeunesse
CENTER :
Curepipe
Vuillemin
Judex
Lajeunesse
EAST :
Flacq
Bel Air
Montagne Blanche
Fabien
Larhubarbe
NORTH :
Goodlands
Cap Malheureux
Triolet
Olivier
Le Febvre
CENTER :
Trianon
Beau Bassin
Mackenzie
Lotoah
CENTER :
Curepipe
Vuillemin
Sattish
Mathoora
CENTER :
Vacoas
Résidence Kennedy
Patrick
Meyepa
EAST :
Flacq
Bel Air
Montagne Blanche
Moses
Mlambo
NORTH :
Goodlands
Cap Malheureux
Triolet
Jacquelin
Narsoo
EAST :
Mahebourg
Balisson
Saint-Hilaire
Jocelyn
Neeladoo
NORTH :
Port Louis
Pointe aux Sables
Michel
Nieva
EAST :
Mahebourg
Balisson
Saint-Hilaire
Eugene
Nyathi
CENTER :
Curepipe
Vuillemin
Stive
Pierre
SOUTH :
Surinam
Chemin Grenier
Baie du Cap
Oumesh
Pothunnah
SOUTH :
Surinam
Chemin Grenier
Baie du Cap
Guito
Quevauvilliers
CENTER :
Curepipe
Vuillemin
Decigen
Raganakeddi
CENTER :
Curepipe
Vuillemin
Vega
Raganakeddi
EAST :
Flacq
Bel Air
Montagne Blanche
Ruben
Ramasawmy
SOUTH :
Surinam
Chemin Grenier
Baie du Cap
Shamim
Ruhomauly
WEST :
Bambous
Chamarel
Mario
Sainte-Marie
Rodrigues
Kishna
Soobana
EAST :
Mahebourg
Balisson
Saint-Hilaire
Clarence
Thésée
NORTH :
Goodlands
Cap Malheureux
Triolet
Noel
Thomas
EAST :
Mahebourg
Balisson
Saint-Hilaire
Kirk
Thompson
CENTER :
Trianon
Beau Bassin
Denis
Vincent
CENTER :
Curepipe
Vuillemin
Leon
Vismer
WEST :
Bambous
Chamarel
Kenny
Wyness
CENTER :
Curepipe
Vuillemin
WE BELIEVE
the inspired Word of God, infallible and absolute foundation to our faith (2 Tim 3:16)